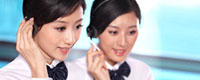 Name: Sophia zeng,Wendy zou
Tel: +86-750-3712056
Fax: +86-750-3712056
Mobile: 18026875506,18029428976
E-mail: info@shanliangled.cn
Add: Nange West road No.33, Hetang Town, Pengjiang District, Jiangmen City, Guangdong Province, China
Skype: sophiazeng1129
Skype: wendyzou2271
QQ: 822692271
QQ: 1311601130






Product name : SLTG-A-100W LED Floodlight

Product No. : 8
Details:

LED Floodlight SLTG-A-100W
Characteristics:
1.LED Flood Light is applicable to outdoor places such as highway, garden, residential house, hotel, restaurant, roads and other industrial area etc.
2.Aluminum die casting and anodized, good for heat emission,effectively reduce LED decay in working.
3.Stainless steel fastener, silicone rubber sealing. Full range items with Sensor Solution available.
4.Green light source, environmental protection, containing no harmful mercury content.
5.High brightness, different colors, and multicolor.